"Bowmanville New Homes" as your Basement Finishing Contractor Locally
We at Bowmanville New Homes have built thousands of finished basements. Finishing a basement is a particularly tough thing to do on your own without experience. Although we have rescued many DIYers from creating a logjam so to speak when they try to do this themselves and eventually realize they are in over their heads. There are so many obstacles and variables that need to be considered before you ever approach the task it is easy to make very large mistakes that can cost you a lot of time, money and materials.
You should always trust this task to a basement finishing professional and we are the local pro's you can trust.
There are companies that promise short turn around times and that may sound attractive since any renovation of a space that you currently occupy can result in a bit of an adjustment. However, we believe that to do a proper job on a basement renovation you need 4-6 weeks minimum and possibly more depending on the complexity and size of the task.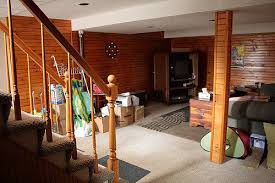 Finished basement pricing can range from as little as $3.00 a square foot to as high as $60 a sq ft depending on many factors. If you have a Rolodex of tradespeople that happen to be friends but just don't have any carpenters on that list we can do a quick framing job of your basement in a few days.If you supply and load the materials and provide us with a basic sketch of the layout with some measurements, we can get you ready for finishing trades in very short order. Our lead carpenter has done literally thousands of rough frame-ups for a long list of private clients and registered builders such as Daniels Group, Halminem Homes, Greenpark, Mattamy and more.
If you want something really special, our project manager specializes in finishing high-end homes in Macedonian Village and has done some incredible luxury builds for some very high-end clients. Of course, these type of builds require some special tradespeople and they don't come cheap. But you wouldn't have it any other way if you are a discerning owner of a luxury home.
For a quote fill out the form at the bottom of the page and we will contact you for a time to see your home in person and give you a quote.